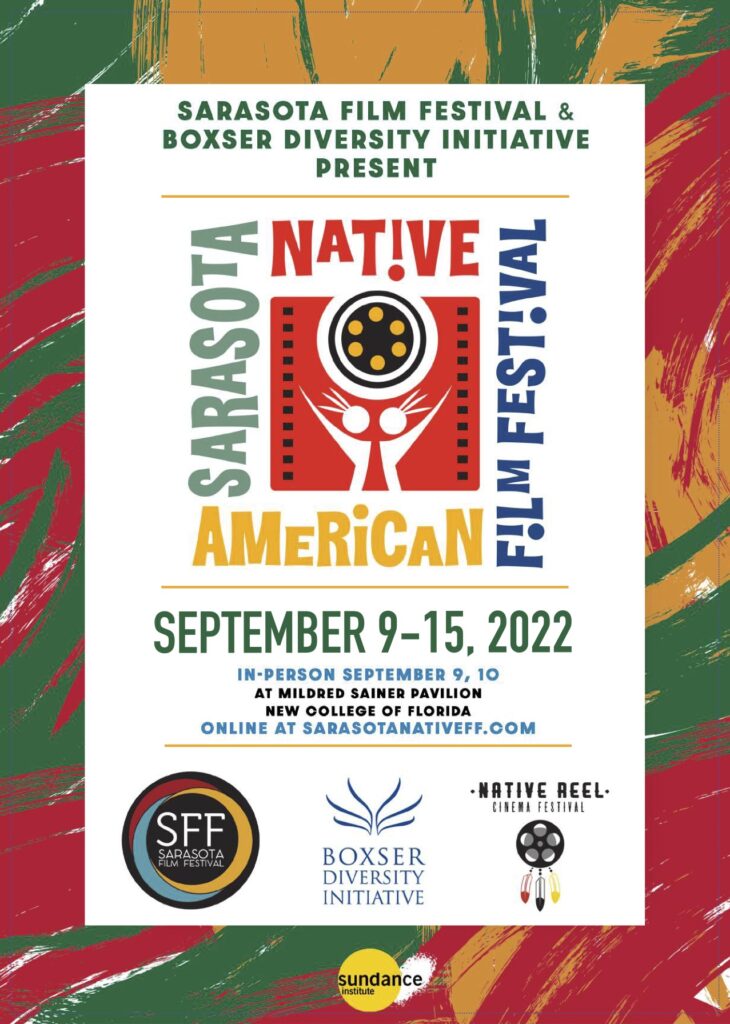 GET YOUR TICKETS!
ABOUT SARASOTA NATIVE AMERICAN FILM FESTIVAL 2022
The 3rd annual Sarasota Native American Film Festival (SNAFF) takes place in a hybrid format from September 9th until September 15th, 2022. The mission of the free-to-attend event, based in Sarasota, Florida, is to present cinematic works related to the experience of indigenous people in the Americas. The festival is produced by the Sarasota Film Festival and the Boxser Diversity Initiative, in collaboration with the Native Reel Cinema Festival.
Showcasing a diverse program, presented both in-person and online, this year's SNAFF features over 25 films and experiences focused on Native American art and music, the history and culture of the Seminole Tribe in Florida, as well as the epidemic of Missing and Murdered Indigenous Women. Among the films are "Rez Metal," the story of a Navajo heavy metal band, as well as "Seven Ridges," the first feature drama ever to be produced in the Seri language, and "Changer: A Hand Telling" – an innovative film with Deaf Native storytellers performing the Salish origin stories.
Among other programming highlights are feature documentaries "Bring Her Home" and "Somebody's Daughter" about the plight of missing and murdered indigenous women, and "Modoc Nation: An Untold Story of Survival" – the tragic and inspiring story of the Modoc people. Rounding out the program are stunning short films from the 2022 Sundance Institute Indigenous Short Film Tour.
The festival's live events spotlight a performance by Seminole musician Doc Native, an MTV VMA Award winner, writer, producer and rapper, as well as live painting by noted Seminole painter Wilson Bowers.
Conversations include a talk with Shaandiin Tome, an award-winning Diné filmmaker, whose films have screened at the Sundance Film Festival, SXSW. She's the Marie Claire's Top 21 Creators to Watch in 2022. Also notable is the panel on the history of the Seminole Tribe with Everett Osceola, filmmaker, founder of the Native Reel Cinema Film Festival, and Uzi Baram, professor of Anthropology at New College. The in-person screenings and live events will take place at New College of Florida's Sainer Pavilion on September 9th and 10th, while online showcases will be available from September 9th through 15th.